Dr. Sylke Tempel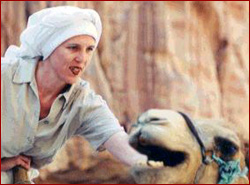 Sylke Tempel has published a cultural history of ancient Rome.
In 2003 she encouraged and editited an exchange of letters between Odelia Ainbinder, a young Israeli, and Amal Rifa'i., a young Palestinian woman. "We both want to live here. A difficult friendship in Jerusalem " appeared in Germany, Spain, Italy, the Netherlands and was also published in the US by St. Martins Press.
In October 2003 "We both want to Live Here" received the renowned "Quadriga Prize" as the "Project of the Year".
Currently, Sylke Tempel is working on a book about globalization.
Universität München (M.A. Political Science) and at the Universität der Bundeswehr (Ph.D. in History, Political Science and Jewish Studies). Currently working as a journalist in Berlin.
Teaching:
"Nationalism and Political Culture in Contemporary Germany"
"Globalization: International Challenges, Regional Responses"
Contact: