Dr. Karen Ruoff Kramer, Director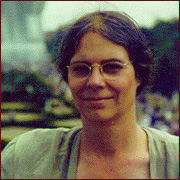 Welcome to my home page. I am the Director of the Stanford University in Berlin, one of nine overseas centers run by the Bing Overseas Studies Program of Stanford University.
I've been the Director here since 1980 and teach "Contemporary Theater", "Culture and Politics in Modern Germany", "Split Images: A Century of Cinema".
I have studied at Stanford University (B.A. in English literature,1969; Ph.D. in German Studies, 1984) and at the Freie Universitšt Berlin (Masters of Arts in Philosophy, Comparative Literature and American Studies, 1976).
I've been a guest professor at Stanford in California on several occasions and am the author of diverse texts, including The Politics of Discourse: Third Thoughts on New Subjectivity (NY/Bern: NYU Ottendorfer Series, 1994).
I am also a published poet, a cellist of sorts and I dance with horses (dressage - I should have the lead, but in fact they usually do...).
Students get in touch with Karen concerning
Academic advising, including courses at the Freie Universitšt, and Directed Reading
Courses and curriculum
General advising and concerns
Contact: